Last nights Bellator 151/UFC Pre 196 Rundown HERE.
The night started with +160 Dog  Teruto Ishihara beating Julian Erosa by KO at 0:34 of Round 2.
https://vine.co/u/916585443200483328
Then delivering an electric interview after.
Love my bitches too.
Jason Saggo -220 beat Justin Salas in the first a some ground and pound TKO.
Diego Sanchez vs Jim Miller was as close to a draw as you can have. Diego up the first, second to Miller and the third was literally 50/50. Very entertaining fight that Diego took as a +160 dog.
Darren Elkins as a +150 dog took a clear decision over Chas Skelly.
Vitor Miranda absolutely massacred Marcelo Guimaraes in the second as a -120 favorite.
Erick Silva a -200 favorite got destroyed by Nordine Taleb. Silva more world class talent going to waste.
Brandon Thatch continued to disappoint next. A -300 favorite and was looking for his way out of it. Completely quit, a waste of talent. Guy hasn't progressed his game at all and should be cut before I hit publish on this blog.
The main card started here and took a pretty solid dip. Nothing too note worth or any upsets other than my boy Filthy Tom Lawlor got absolutely robbed by decision from Corey Anderson. Feel bad for Lawlor, everyone in the room I was at had 29-28 Filthy. Two judges had it 30-27 for Anderson and should be forced to defend their decisions publicly. Amanda Nunez -115 took a clear decision over Valentina Shlepshenko. Then another pretty boring three round decision Ilir Latifi -200 beat Gian Villante. Here is Ilir Latifi on a horse.
Miesha Tate vs Holly Holm was an incredible fight then. On its way to be scored a draw and Miesha pulled a sick choke out after almost getting bucked off.
And fucking Vegas Dave is back-
Love getting pouty Dana back then for the rest of the show. Guy wanted Holm to just way for Rousey so badly and didn't get his way. Gambled and lost.
Rousey was at PWG while this was all going on. Great move, wish I was there. Heard it was a great show.

Love Nate getting warmed up on some Wranglers. The true definition of any time any where attitude.
Just an awesome fight. Conor ran out of gas in the second. As Nate said "Oh now you're a wrestler?" just a great all time quote.
Buffalo Wild Wings in Stockton was insane. Diaz winning prevented at least four parking lot stabbings at that establishment.
Fork in the road moment for Conor and he took it on the chin like a man. Didn't run from it and hide like Rousey did. He took right to Instagram to call Dos Anjos and Aldo pussies.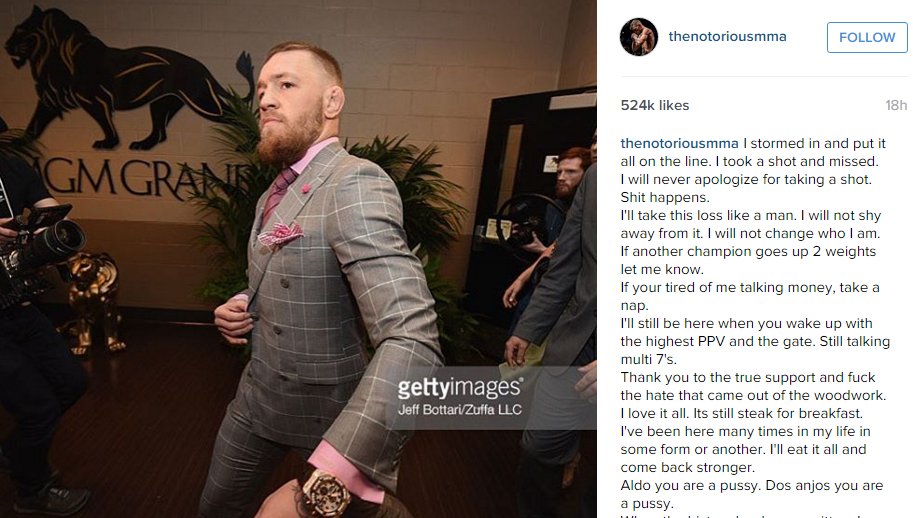 Never change Conor.
Btw that Diaz/Miesha parlay payed about 13:1. I'd never do something so genius though.
Conor's entrance music was a 9.5 too (a 10 if he pulls the win out). Take us out